What Is
A Golf Simulator?
A golf simulator provides the perfect environment to practice, improve and enjoy your golf – whenever you want to. From a home golf simulator to an indoor golf simulator at your local club, Foresight Sports technology provides the most true-to-life simulation experience in the world.
An indoor golf simulator consists of specially designed hardware and software, enabling the golfer to play without being on a driving range or a golf course. Golf simulators can range from simple, net-based solutions to fully installed hard-panelled enclosures. You can explore the wide range of Foresight Sports golf simulator applications below.
Our Simulator Applications.
You'll find our simulation technology all over the world, in every golfing environment you can imagine, from private homes to the world's most sophisticated manufacturer R&D facilities.
Private home simulators
Whether it's a basic installation in your garage or a complete custom-designmed virtual golf studio, all our simulators are powered by our core GC launch monitor technology. Which means, unlike other professional-grade golf simulators, you aren't limited be exact room dimensions and large costs.
Indoor golf centres
When it comes to commercial simulators, there's three reasons why Foresight Sports is the technology og choice – unmatched accuracy, true-to-life performance, and unbeatable value. Let our team design, build, and install a Foresight simulatir for your facility that delivers the ultimate entertainment experience.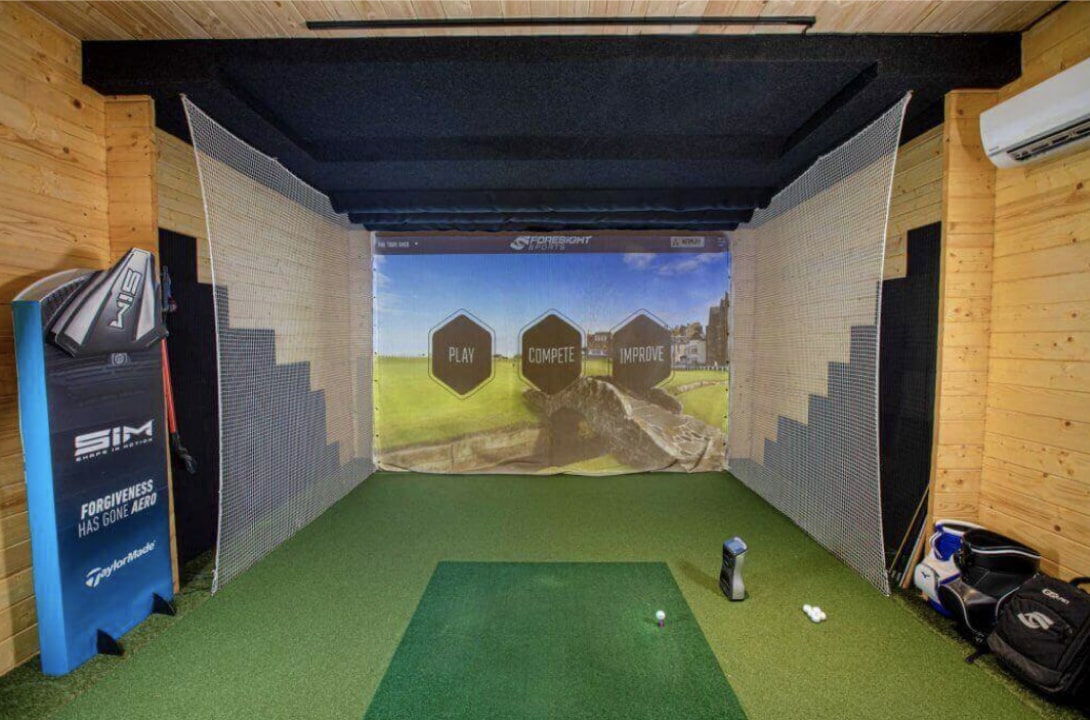 Golf club simulators
Let members and visitors tee off on the world's best courses or receive instruction from professionals – all from the comfort of your golf club. Our simulators provide a unique amenity that drives loyalty, membership retention, and positive reviews, particularly with adverse weather conditions.
Teaching academies
Ensure you are delivering the best possible instructional experience to your students, whatever the weather, with a simulator powered by our core GC launch monitor technology. And that core technology – whether the GC2 or the GCQuad – can still be used on the range, course, putting green or short-game area for consistency of data and faster results.
Club-fitting studios
Major club-fitting establishments have chosen Foresight simulators. Why? Because in-store, simulation-based club fitting is proven to provide an immediate upswing in club sales. An under-utilised area of floor space can easily be converted into a Foresight fitting experience that generates revenue, builds customer loyalty, and earns future business.
Corporate venues
Turn an unused space into an employee perk. A brief recess on the corporate driving range can improve employee productivity, health, and job satisfaction while giving a boost to retention and recruiting. Best of all, with professional site surveys, space design, installation, and on-site training, Foresight can provide everything you need from start to finish.
The Ultimate Simulation Software.
Enjoy the most true-to-life golf simulation experience with FSX 2020.
Play the world's best and most exclusive courses, practice your skills on the range, or even compete in skill-building competitions with players around the world — all in beautiful 4K resolution. With the world's most accurate and trusted directly measured data at your fingertips, your options to grow your game with FSX are truly unlimited.
Play
Enjoy stunning reproductions of the world's best, and most beautiful and most challenging courses, all faithfully reproduced to deliver the most true-to-life golf simulation experience available today. Experience endless setting customisation with player options and weather conditions.
Compete
Develop your skills in specific areas, competing against others in a series of increasingly difficult skills challenges. Improve your consistency with Nearest the Pin and your driving power and precision with Longest Drive. Results can be uploaded to your FSX Live account and ranked against other players online.
Improve
Understand and analyse your data to develop every shot in your arsenal. Club-fitters' lives are made easy with comprehensive ball and club data, providing virtual depictions of launch condition, shot shape, and down range values — as well as club head data such as dynamic loft, lie and impact location — all in real time.
Foresight Fairgrounds
Combining classic carnival-style fun with short game skill-building, our Fairgrounds game pack is designed to deliver hours of fun for the entire family. Even beginners will love this ever-growing collection of games which includes favourites like putt skee, balloon pop, shooting gallery, splash wall, and darts.
There's Nothing Like Foresight.
The Foresight Experience.
Our team of product experts is ready to help you create your ultimate indoor golf simulator.